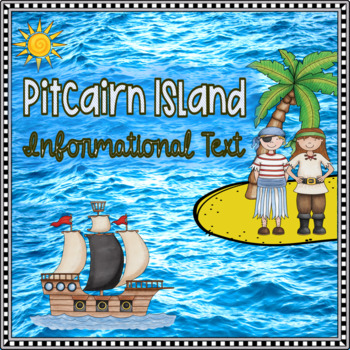 I just love learning about interesting places, and Pitcairn Island has pirates, mutiny, and sand. Pitcairn is one of the most remote places on Earth. With a population of about 50, the tiny island is a place that most people only read about.
Do you remember "The Mutiny on the Bounty?" 5 movies and a book and been made about this place.
Beth, one of my on-line sand collecting buddies, just received sand from this speck-of-an-island and sent me an article to read. I was quite interested in the article, but knew my students would not be able to read it, so I wrote my own, and added some close-reading strategies to go with it. It will be free for the first 24 hours so grab it below.
The article includes:
Here is a quick peek at the article.
Of course I have included the answer sheet, but you will need to download the product to get it.
Here are the Close Reading Annotations for the students. I have also included them as bookmarks for their reading convience.
The island has three main sources of income for the Islanders is honey, postage stamps, and handicrafts. I thought the stamp would make the perfect passport stamp if you are using passports in your classroom as you learn about different countries.
I also added some of the stamps made by the Pitcairns
Since stamp making is done on the island, the study would not be complete without your students making their own stamp, so a page was added for that. In my next revision, I will probably add a foldable stamp for those doing interactive journals.